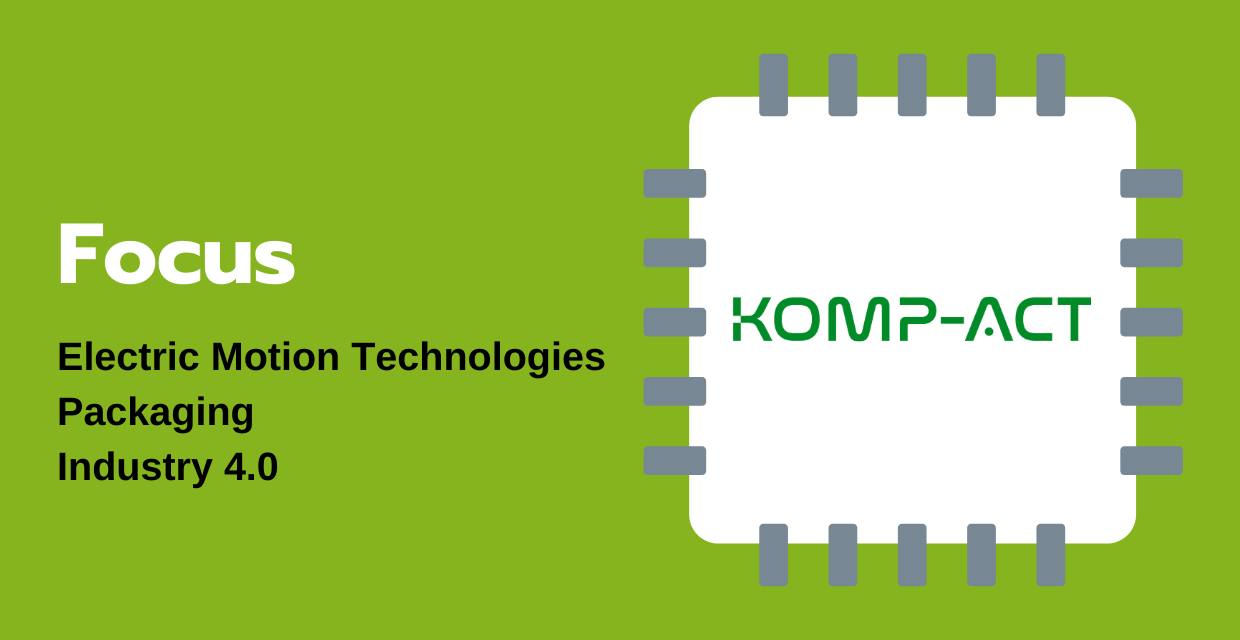 As the summer goes by, we are very proud to announce our new partner of the month for August 2020: KOMP-ACT
Founded in 2018 in Switzerland by an aerospace engineer and a retired researcher from the Swiss Federal Institute of Technology in Lausanne (EPFL), KOMP-ACT yearns for driving the transition to a full electric generation of industrial machines from ground to sky.
This Swiss high-tech SME produces compact-size, lightweight and programmable electric motion technologies such as linear actuators, direct-drive grippers and electronics controllers.
Thanks to its cost-efficient and easy-to-implement electric solution, KOMP-ACT helps companies in the industrial automation sector increase their machine efficiency and productivity, while reducing R&D efforts and operational costs.
Its high reliability, speed and accuracy make KOMP-ACT's full range perfectly suitable for filling, wrapping and packaging applications, which is typical for packaging machines, material handling and factory automation in the beverage, food and non-food industries.
This complete plug-and-play solution can be installed on a machine, either horizontally or vertically, without any additional hardware expenditures required. Replacing pneumatic actuators with KOMP-ACT's electric linear actuators can increase a machine's speed by four times and yield major energy savings up to 95%.
Not only KOMP-ACT's actuators can reach a higher cycling rate compared to pneumatics but also a greater lifespan, which can be translated into an increased machine value over time.
KOMP-ACT's actuator product line can fit any machine thanks to its modular design, while keeping the same high level of energy efficiency and speed. This electric linear actuator can be easily installed and configured with the help of its related electronic controller that does not require any software installation, but rather just a USB connection to access a web-based user-friendly interface. In addition, the actuator's motion settings are customizable and automatically saved to reach optimized results.
Whereas a tailor-made solution can already be asked through the deployment of pilot projects, the standardized version of KOMP-ACT's products will be soon available over Europe and overseas through a network of specialized distributors.
We are very proud to have such a solid and trustworthy network of partners, and to collaborate with KOMP-ACT for the development of their tech products.
Learn more about KOMP-ACT at: https://www.komp-act.com/
Do you want to know more about our partner program or do you need advice for your project? Get in touch with us