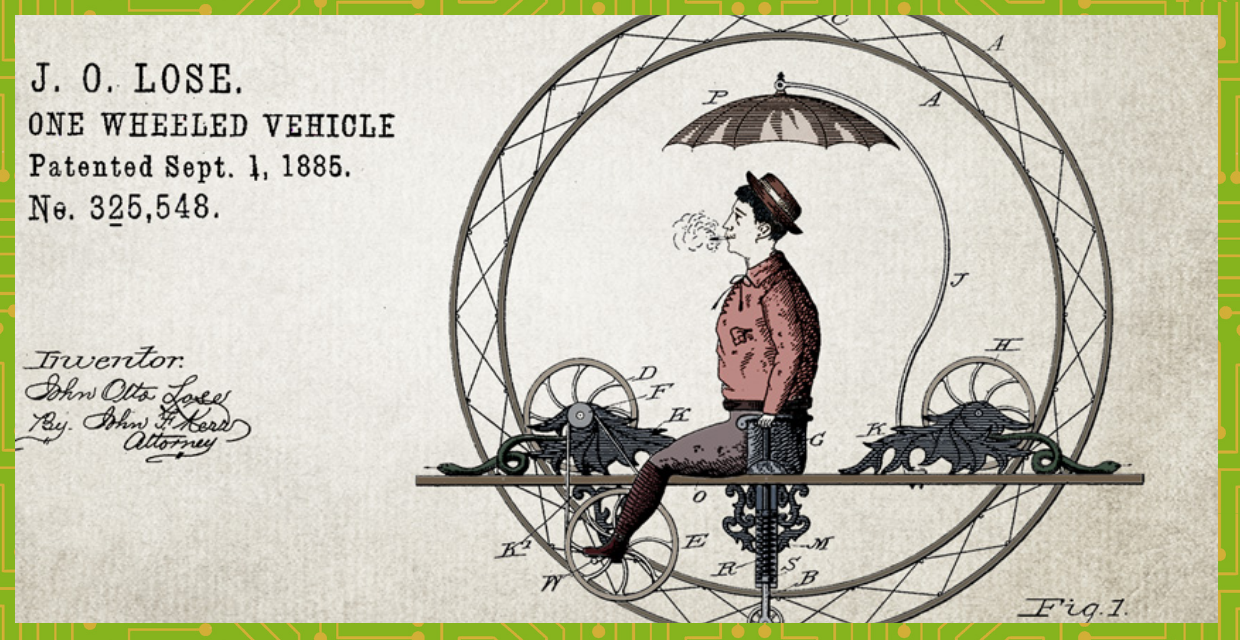 Do you have an invention in hand that you plan to commercialize and want to protect it (legally speaking)?
As an electronic manufacturing services partner, we have gained an extensive consulting experience regarding patent and IP protection.
We even hold many patents too!
In this guide, we are going to give you 5 steps to correctly patent and defend your idea. Plus, some real world examples, directly from some of our patented applications.
What is a patent?
According to a common definition, a patent is "a title that recognizes the right to exclusively exploit an invention, preventing others from manufacturing, selling or using it without the consent of the owner." In other words, a patent is a property title of an idea or product, which is only effective in a certain territory, usually the country in which it has been registered. If you want to sell your product in other countries, you need to patent it in those same countries.
A new procedure, a new device, a new product or an improvement can all be patented.
Be careful, not everything is patentable. In order to patent an idea, it has to meet three requirements:
It should be totally

new

to the world.

It should be

inventive

(not based on any obviousness).

It should not be abstract

: it needs to have a real and feasible application.
Patent protection lasts for 20 years
Regarding the duration of protection, a patent lasts for 20 years, although it includes a first year of international protection that can be extended for an additional 18 months through a PCT application (Patents Cooperation Treaty).
Steps to patent an idea
Patenting an idea entails submitting to a legal procedure regulated by strict and generally immovable deadlines, so it is more than advisable to hire a lawyer or an industrial property advisor with experience in these matters. Patenting is not as easy as it may seems, and that's why we decided to include an technical advisory service on this field to any customers who might require it.
The patenting process goes through the following phases:
What to patent and how:

The first thing to do is define well what you want to patent, with what image and under what brand or name, and make sure that there is nothing like it in the world. The initial research is important, considering the novelty as one of the fundamental requirements of a patentable invention. You need to present your patent application accompanied by other documents such as the applicant's data, a description of the idea or invention with its respective plans, novelty claims and a summary. In addition, with the application you must pay a first fee. Thus, it's important to take your time and be sure that everything is ready and correct.

Presentation and prior examination:

After the application, a formal examination will be carried out to verify that the documentation is in order. If the documentation is in order, a filing date or priority date is given to your patent application. From then on, you have a whole year to present applications for patent protection in other countries, if you want to commercialize your product internationally. During the examination, you may also receive a search report of possible ideas similar to yours, made by an experienced examiner, which usually includes a "patentability" opinion.

Publication

: Your application will be made public 18 months after the filing date. At this point, you have another six months to decide if you want to patent your idea in other or more countries.

Substantive examination

: The patent office will decide whether your invention and its patent application meet the requirements of the European Patent Convention, for which it will employ three examiners. One of them will be in contact with you (or your lawyer), which could lead to modifications in the application.

Granting the patent:

If the examiners decide to grant the patent, after paying all involved fees, the decision is published and the patent will be effective from then on.
To maintain patent protection it is useful to remember, that fees are paid annually, changing country by country.
Some examples from Hemargroup
This blog article won't be complete without some real life examples of patents. Our engineering department, together with our most innovative customers, has been very active in the last years, patenting great inventions alone or together with our customers. Here are some examples:
SIGNAL ACQUISITION METHOD AND CONTROL AND SIGNAL PROCESSING ALGORITHM FOR A GRAPHIC DIGITISER TABLET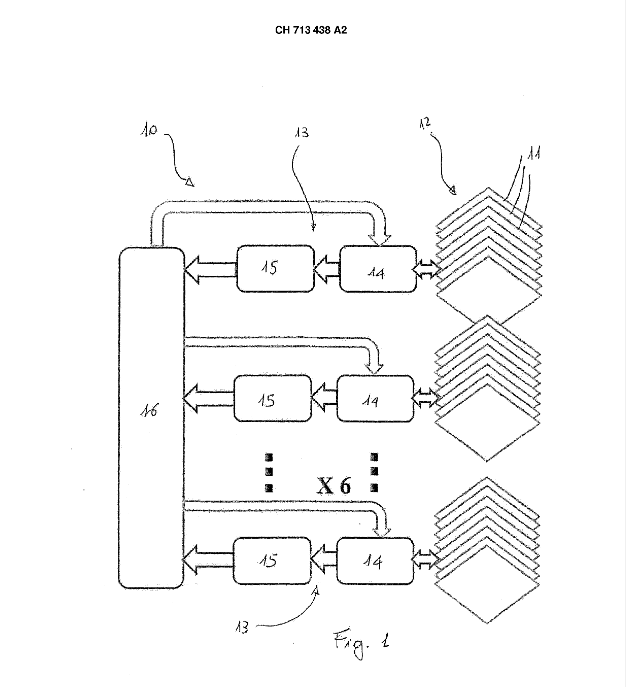 Digitiser tablet (10), including a plurality of antennas (11) subdivided into groups (12) of antennas and arranged to be excited by a known excitation signal, at least one excitation channel (17) and at least one read channel (13). Each excitation channel (17) is associated with a respective group (12) of antennas and is arranged to transmit excitation signals to the antennas (11) of the respective group (12) of antennas. Each read channel (13) is associated with a respective group (12) of antennas and is arranged to receive and transmit reflected signals generated by the antennas (11) of the respective group (12) of antennas. The digitiser tablet (10) further includes a processing unit (16) connected to said at least one excitation channel (17) and said at least one read channel (13) and arranged to generate the excitation signals and to receive and process the reflected signals generated by the antennas (11). Each read channel (13) is made of discrete electronic components, not integrated into the processing unit (16).
POSITION INDICATOR FOR A DIGITISER TABLET AND CONTROL METHOD THEREOF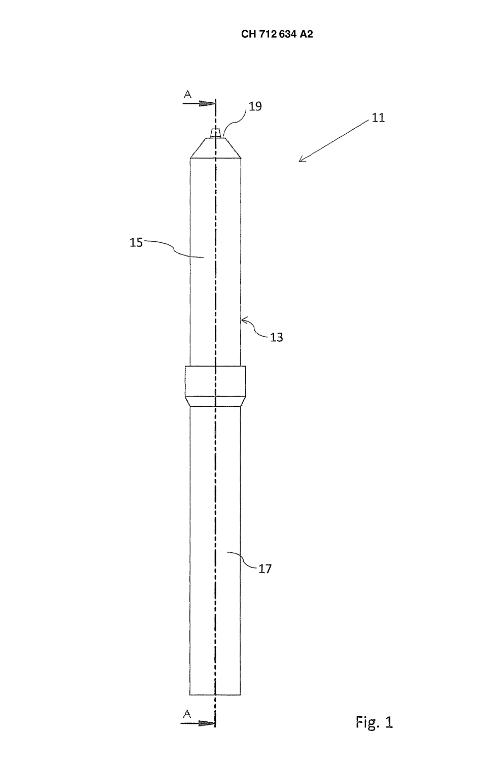 Position indicator (11) for a digitiser tablet, including, a casing (13) having a hollow tubular cylindrical body in which a front portion (15) and a rear portion (17) are defined, said casing (13) having at its forward end an opening (19) through which an axially slidable tip (33) passes, the tip partially projecting outwards from said opening (19); a frame (21), which is housed in the tubular casing (13) and in which an axial front seat (23) directed towards the opening (19) of the casing, and a side seat (25), directed towards the internal wall (27) of the casing, are defined; a resilient member (29) housed in the axial seat (23) of the frame (21); a slide (34) made of ferrite and arranged to transmit the axial movement of the tip (33) to the resilient member (29) housed in the axial seat (23) of the frame (21); a sleeve (35) surrounding the slide (34) and on which a wire (37) of electrically conducting material is wound; a printed circuit (39) housed in the second side seat (25) of the frame (21) and including an L - C electrical circuit to which both ends (37a, 37b) of the wire (37) of conducting material wound around the sleeve (35) are connected. The control method includes a step of searching for the approximate position of the device (11), a step of searching for the precise position of the device (11) and a step of measuring the pressure exerted by the tip of the position indicator (11) on the writing surface of the digitiser tablet.
LIGHTING SYSTEM WITH CONTROL BY THE OPERATING DEVICE VIA PULSE WIDTH MODULATION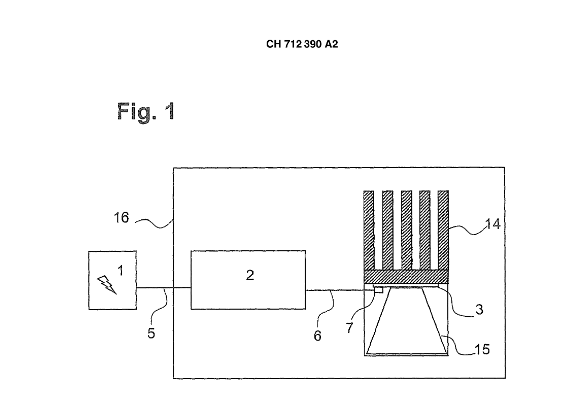 The programmable logic controller of the lighting system according to the invention serves for at least two illuminants/LED chains (11, 12), so that these can be controlled or regulated asynchronously. In this way, the various LED chains (11, 12) are specifically asynchronously controlled or dimmed by means of the PWM signal (13) of the programmable control unit (8) by means of the control of the operating device (2) depending on its secondary PWM signal (6). Thus, the use of differently colored LED chains when dimming the control gear (2) results in a reduction of the light intensity of the LED module (3) and at the same time in a color shift of the light.
DISPENSER OF A WIRE OF A SOLDERABLE MATERIAL FOR SOLDERING PENS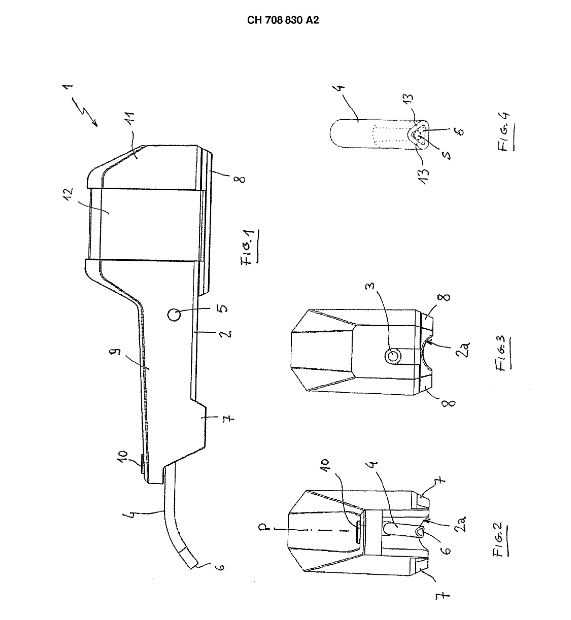 Dispenser (1) of soldering wire for soldering pens (30) of the type comprising a pen-like body and a soldering electrode, said dispenser comprising a body shaped so as to rest on the pen body (41) of the soldering pen; an inlet for a wire of solderable material inside a guide tube (33) and a nozzle (4) for dispensing the wire which, during use, is directed towards the electrode (32) of the soldering iron, further comprising a motor-driven device inside the body of the dispenser (1) for imparting a feeding movement to said wire, directing it into said dispensing nozzle (4).
Do you need support for patenting your product? Do you have an idea and you want to protect it? We are ready to help you!