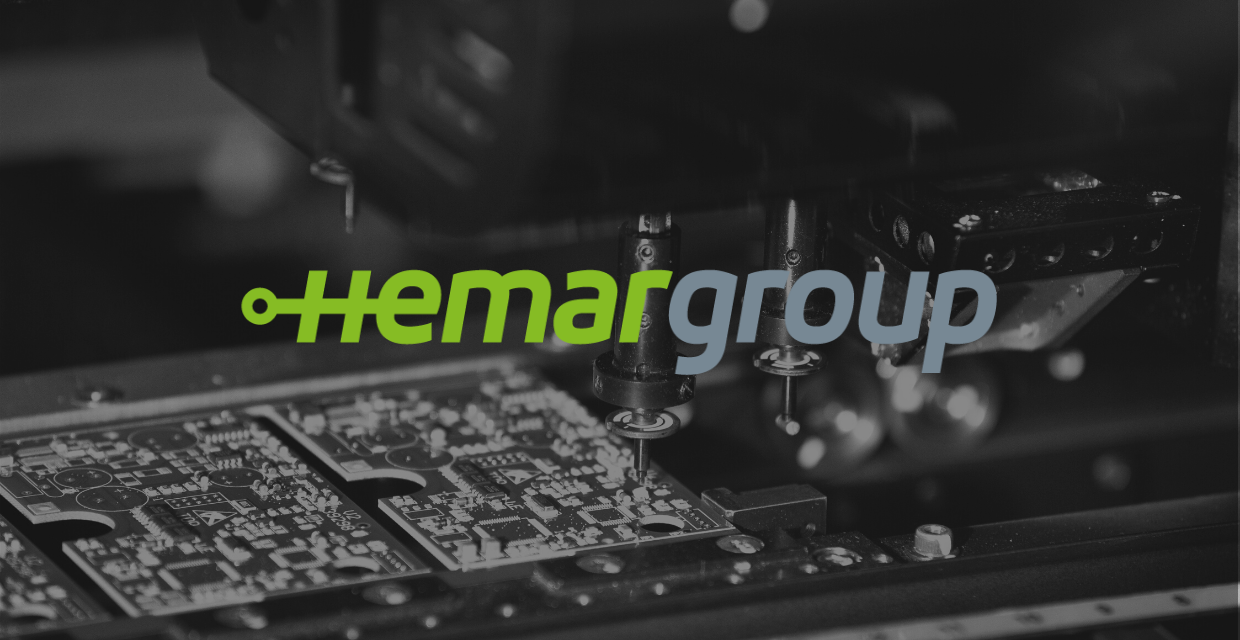 In this article we would like to describe the reality and characteristics of Hemargroup, through the words of our employees.
History of Hemargroup
The parent company of Hemargroup is Hemar Electronic AG. Hemar Electronic AG was founded in 1974, but only in 1980 it becomes active as as an importer of electronic components, based in Nesselnbach, Canton Aargau.
It soon formed alliances with strong EMS (Electronic Manufacturing Services) partners for the production of finished electronic assemblies, swiss-made for the international market.
Since its origins, the main aim has been to offer a strategic and integrated quality service in the EMS field, carefully choosing the raw materials and components necessary for the realization of the products and following the projects until their introduction on the market.
The first acquisition: Hemargroup is born
Through its exponential growth, and given the need to follow more and more customers, in 2010 Hemar Electronic AG acquired SEFA SA, with the aim of increasing its flexibility and speed of reaction to requests, maintaining and indeed increasing the high levels of quality and precision achieved.
SEFA SA follows a separate story. SEFA SA, a younger company, was founded in 1972, and for more than 30 years it has been an electronic manufacturing service partner for Hemar. SEFA is based in Mendrisio, Canton Ticino.
The know-how derived from modern, state-of-the-art production management, has enabled SEFA SA to grow steadily and solidly, future-oriented in the world of electronic assembly. As a result, it was a more than interesting partner for Hemar Electronics AG.

SEFA SA has earned the reputation of a company that is highly specialised in electronics production, tackling every problem in the world of electronics with experience, proposing innovative solutions and offering high integration of the various engineering, prototyping and mass production processes. Moreover, it has always invested in its employees, who have distinguished themselves for their flexibility, skills and experience. Through regular training and life-learning courses, a high standard of the necessary technical knowledge has been maintained.
Thanks to its excellence and reliability as an EMS partner, Hemar decided to acquire SEFA in 2010, consolidating its international presence in the electronic sector.
Hemargroup grows: HSCS SAGL arrives
The needs imposed by the group's growth and the desire to offer new services to customers are once again a driver of change for Hemargroup.
To increase and complete its offer in the electronics sector, Hemargroup decides to acquire HSCS Sagl in 2019.
Hemargroup thus adds a fundamental element to its offer to corporate and private customers.
HSCS Sagl in fact combines the experience gained in hotel, industrial, public and consumer sectors, bringing its customers great advantages and significant improvements in their facilities, introducing the use of cutting-edge technology.
The professionalism of HSCS is expressed by Technology solutions, IOT, Drone Systems, LED/Light-management, domotics, e-entertainment, automation, systems integration and security.
Thanks to this new acquisition, Hemargroup's customer offering is also completed from an engineering and product consulting point of view, also in new important trends as Internet of Things, Artificial Intelligence, and Smart Wearables.
Today Hemargroup can offer a 360° project management service, from the engineering of the first prototype to mass production, for corporate clients and startups. The results of these acquisitions are extremely positive, and today Hemargroup is an international excellence for all the customers that are looking for a partner for the engineering, design, development, manufacturing up to mass production, testing, and delivering of their electronic products.
The words of Angela, Engineering Administrative Assistant, perfectly described the personality of Hemargroup:
"Working in a company entirely oriented towards the future, towards the development and improvement of our daily life can only require commitment and passion. I am not an engineer, but even in my own small way I participate in the realization of our engineering projects, I would define my field "troubleshooting". People are the mind and arms of Hemargroup. I am one of them and I feel the honor and the burden of it. It is like a well-matched relationship that requires trust and commitment. The trust I have found in Hemargroup gives me the serenity to work with commitment, righteousness and joy. This is reflected in the work of all of us."
A company therefore, but also a group of extremely talented and qualified people who work together to offer customers the best possible service.
For any business enquiry, or for more information, please do not hesitate to Contact Us