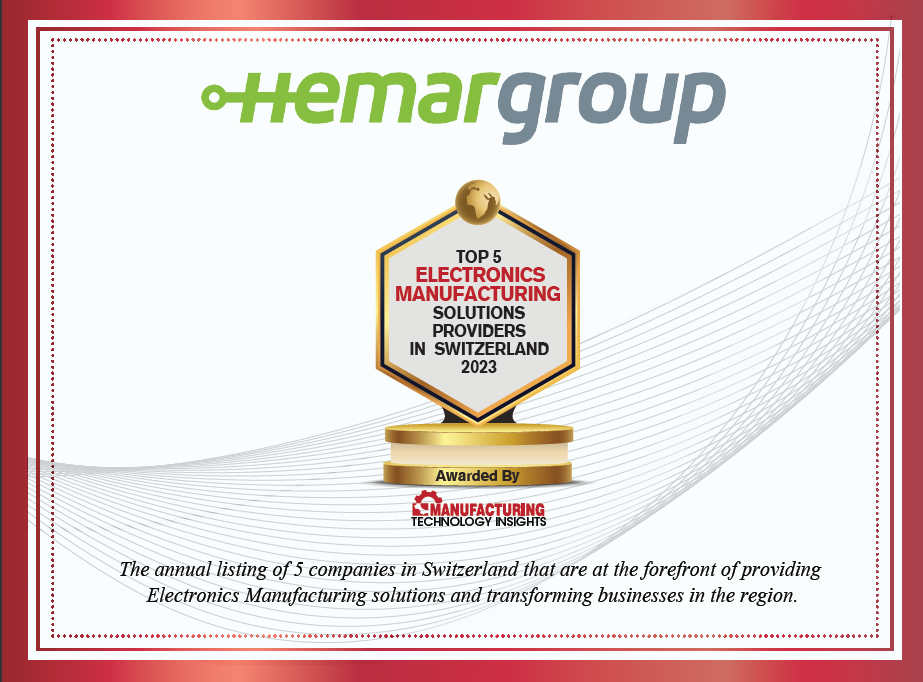 In the dynamic world of electronics manufacturing, Switzerland has long been a beacon of precision, innovation, and unparalleled quality. This year, our dedication to these principles was recognized on a grand scale as we, Hemargroup, were honored with the title of "Top Electronics Manufacturing Solutions Company in Switzerland for 2023" by the prestigious Manufacturing Technology Insights magazine.
Our Journey to Excellence
Emerging from the strategic merger of SEFA AG, Hemar AG, and HSCS Sagl, we've harnessed the collective strengths of these entities to position ourselves as a comprehensive partner in electronics manufacturing. Our commitment to offering end-to-end solutions, from production to electronic and mechanical engineering, has transformed the way our clients engage with us. Our innovative approach ensures reduced production timelines without any compromise on quality. For 50+ years Hemargroup has been a strong partner for all the most innovative and advanced companies in the world, from startup to corporations.
Making a Mark Globally
With an impressive capability to produce millions of electronic products annually, our reach is truly global, serving esteemed clients in Europe, the USA, China, and Australia. Our holistic approach to product development, from the initial idea to the final shipment, has solidified our reputation as a preferred EMS partner for businesses and individuals alike.
Embracing the Future with Industry 4.0
Always at the forefront of technological advancements, our alignment with Industry 4.0 principles showcases our commitment to the future. From mechanical assembly to the final product testing, our tailored production processes and efficient logistics services ensure that our clients always receive unparalleled value.
The Essence of Swiss Precision
As our Chief Marketing Officer, Saverio Russo, aptly puts it: "Our 'Swiss Made' precision and traceability down to the individual component set us apart. Nestled in the heart of Europe, we present ourselves as a compelling alternative to Asian manufacturers, offering unmatched reliability, professionalism, and proximity for those in pursuit of an exceptional partner."
Innovation at Our Core
Our adaptability and commitment to fostering innovation are evident in our collaborations. We partner with numerous startups and innovative ventures, bringing versatility and dedication to supporting the growth of innovative businesses.
Beyond Manufacturing
We pride ourselves on offering more than just core manufacturing services. From component checks to procurement, our expansive network and strong industry relationships ensure that we are the go-to solution for all electronics manufacturing needs. Our 3D printing venture, H-LAB ensures incredible 3d printing quality in all dimensions and unrivaled design capabilities.
Setting the Gold Standard
Our accolades and achievements are a reflection of our unwavering commitment to pushing the boundaries in the electronics manufacturing domain. Our capability to manage high-volume production while adhering to stringent quality requirements distinguishes us not just in Europe but on the global stage.
In conclusion, as the landscape of electronics manufacturing continues to evolve, we at Hemargroup stand ready and eager to meet these challenges head-on. Being recognized by Manufacturing Technology Insights is not just an award for us but a testament to our relentless pursuit of excellence.