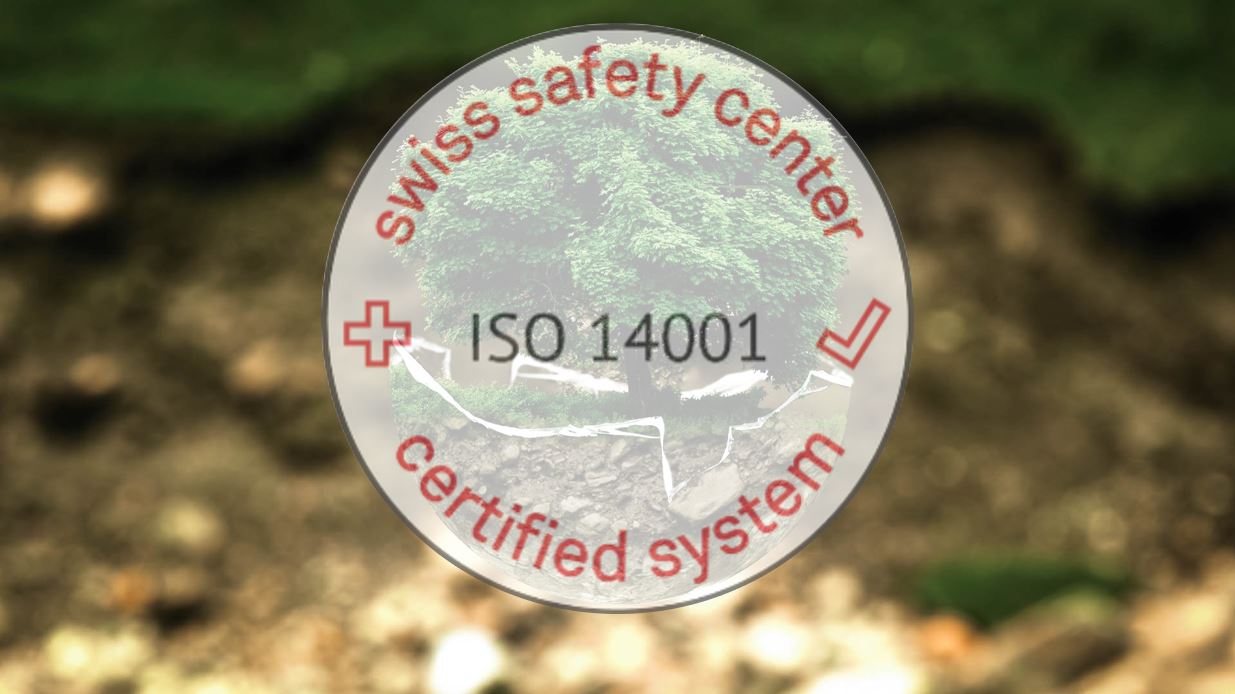 Hemargroup's Swiss-Made quality is well known in the international market. Thanks to our 100% traceability and quality assurance we are a best-in-class EMS company and our ISO certifications show our commitment to always deliver an excellent service.
We are proud to announce our fresh and new certification ISO 14001, which attests the environmental responsibilities of Hemargroup.
What is an Environmental Management System?
An Environmental Management System is a framework of processes and practices that helps an organization achieve environmental goals through consistent review, evaluation, and improvement of its environmental performance. The assumption is that this consistent review and evaluation will identify opportunities for improving and implementing the environmental performance of the organization. The Environmental Management System itself does not dictate a level of environmental performance that must be achieved, rather each organization's system is tailored to its own individual objectives and targets.
The official international framework for an Environmental management System is the one developed by the International Organization for Standardization (ISO) for the ISO 14001 standard. Established in 1996, this framework is based on the Plan-Do-Check-Act methodology. More specifically, here the five main stages of implementing an Environmental management System within a business: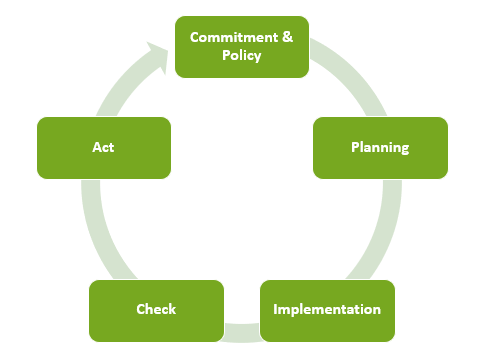 1. Commitment and Policy: top management commits to environmental improvement and establishes the organization's environmental policy. The policy is the foundation of the Environmental Management System.
2. Planning: as first step, an organization should identify environmental aspects of its operations, which can have negative impacts on people and/or the environment. The organization should then determines which aspects are significant by choosing criteria such as worker health and safety, environmental compliance, and so on. Once significant environmental aspects are determined, an organization sets objectives and targets.
3. Implementation: the organization should then be pursuing the action plan using the necessary resources (human, financial, etc.). An important component is employee training and awareness, as well as the engagement with third parties. Other steps in the implementation stage include documentation, following operating procedures, and setting up internal and external communications and operations in line with environmental objectives.
4. Check: the improvement of environmental performance should be constantly verified by monitoring, measuring, analysing and evaluating key system parameters, but also by carrying out internal system audits and periodic management reviews.
5. Act: in case of non-conformities and problems in the performance of the environmental management system strategy the top management should continuously improve and correct flaws in the system.
Why is ISO 14001 essential in your business
The importance of a change towards a sustainable development is a global well-known topic, and if we would like to achieve the UN Sustainable Development Goals (SDGs) by 2030, we need to be aware of the crucial role companies play in achieving them.
At the World Economic Forum (WEF) in Davos, sustainability, climate change and the big role of companies were once again at the centre of the discussion. As a matter of fact, the awareness of paying attention to corporate responsibility is increasing among managers and executives and even among the major investment management companies is emerging the absolute necessity to choose new approaches and give more importance to sustainability.
As previously said, an Environmental Management System enables an organization to reduce its environmental impacts and at the same time to increase its operating efficiency and its reputation. If at the beginning the adoption of an Environmental Management System could imply an investment and could lead to higher costs, long-term this system is profitable and leads to various advantages for businesses. The key points are:
The identification of future business opportunities (e.g. circular economic models, innovative energy-efficient technologies, assistance and advice) and access to new markets;
Strengthening the brand through improved reputation, stakeholder and customer relations;
Employee retention and Employer Branding;
The ability to cope with regulatory and legal risks and costs (better fulfilment of legal requirements and stakeholder expectations);
Stabilization of companies and markets;
The optimization of the company's environmental performance;
The creation of common values and their improvement throughout the supply chain;
Keeping up with global political developments.


The management system of Hemargroup
Businesses in the electronic industry are no exceptions for the importance of having an Environmental Management System. We take care of corporate responsibility by implementing social and environmental goals from the manufacturing to the development and relationships with clients. We are proud to have gained the certification ISO 14001, which testifies that our environmental management system respects the environmental objectives and fulfils compliance obligations, guaranteeing that the organization itself and interested parties are in line with environmental values.
To us, this is a very important achievement because we thrive to constantly improve our management system. We have build a philosophy of customer's first and our Swiss-made culture is characterized by reliability, quality, attention to details and punctuality. Social and environmental responsibility is part of this quality, and we think it is extremely important.
Along with ISO 14001 we are also certified ISO 9001, ISO 13485 and AQAP 2110.
To us, Swiss-Made is not only a brand, but a core founding value of our group.
We respect deadlines and specifications, to ensure the maximum satisfaction for our customers.
Our extensive digital tracking system can monitor every single component and process, ensuring complete traceability, from the warehouse to the final product.
All production processes are constantly monitored through a smart BI infrastructure. Each PCBA with its own QR Code is compliant with IPC international norms, ensuring maximum quality, and full traceability, from the single PCB up to the final product.
A state of the art BOM and ERP Software ensure flawless attention on customers' needs and flexibility towards express and special services.

Download the list of our ISO certifications to verify our 0-compromises quality policy.
For more than 40 years, and in numerous technologically challenging industries, we have been a Swiss Excellence partner for the growth of our customers through product lifecycle management strategies and reliable electronic manufacturing services. Constantly updated on the latest technology trends, we support and enable your success from the latest product launch to reverse engineering and obsolescence management, thanks to our electronic manufacturing solutions, no matter your industry. From the development of your idea up to the mass production of your product, Hemargroup is able to assist you not simply as an EMS supplier but as a reliable partner, ready to grow and develop your project. We are therefore ready to support your needs, but also assist any customer in its European relocation, who is looking for a reliable and solid electronics manufacturing services partner.
Don't hesitate to contact us for more information or for requesting a quotation on our services.