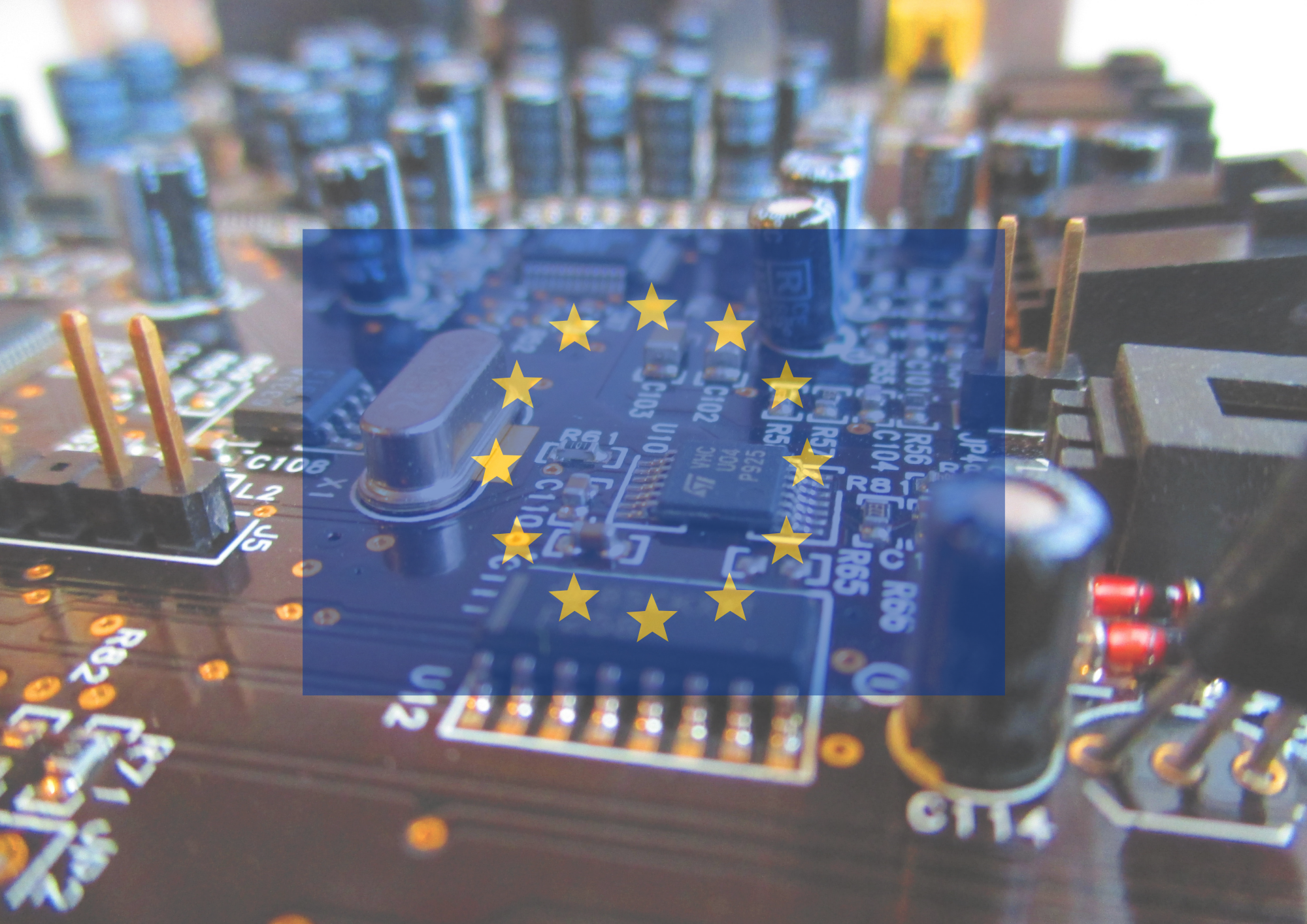 Microchips are becoming a highly valuable asset due to their ubiquity in today's digital world. The microchip industry is increasingly expanding and Asian's companies dominate the business.
However, the shortage of electronic components, which has been going on for more than 2 years now, is putting different industries at a hard test, hampering business growth worldwide. Especially Europe suffered a lot due to its dependence on Taiwan and the other Asian giants, and for this reason the European Commission has set a plan to reinforce the manufacturing of the microchip in the continent.
Read the whole article to understand why microchips are so important and discover the global and European situation of the microchip industry.
Microchip shortage
With the digital transformation, the microchip industry is increasingly growing and microchips are nowadays strategic assets for core industrial value chains due to the ubiquity of digital innovations, like highly automated cars, cloud, IoT, connectivity (5G/6G), space and defence, computing abilities and supercomputers. Consequently, microchips like semiconductors are at the core of strong geopolitical interests, conditioning countries capacity to act and drive digital innovation.
The global microchip shortage crisis started in March 2020 when the pandemic forced electronics producers to shut down plants and temporarily halt orders from suppliers. But if the offer started to sink, we can not say the same for the demand. On the opposite, the electronics industry is facing a growing demand for consumer devices like smartphones, televisions, computers, games, and home appliances from customers abiding by stay-at-home orders. With ups and downs of the pandemic crisis, when the electronics industry seemed to came back online faster than expected in the summer of 2020, it found that many chips needed weren't available from the suppliers side due to slowdowns in the production. Hence, the new normal sees that big orders can't be met quickly, rather it takes about three months to make even the simplest of semiconductors. Who suffered a lot from delays and shortages is especially the automotive industry.
But playing the blame game does little to fix a problem that has hurt suppliers, producers, and consumers alike. The good news is that from now on the situation should be improving to improve. It is not happening as quickly as people would like, shortages are projected to last into 2023 or longer - and may prove to be endemic - the hope is that they will be more manageable as chipmakers increase capacity and electronic producers find ways to make devices optimizing the use of chips or good alternatives to not-so-available ICs. Although there could be more setbacks, steps are being taken to avert a similar crisis in the future involving electronic components.
A global outlook on the electronic industry
The whole electronic industry is holding its collective breath that things won't backslide, and meanwhile the world has realized the need to expand global production. Already in 2021, global chip suppliers committed to spending about $146 billion, up about a third from 2020, according to the technological research firm Gartner. Unfortunately, less than one-sixth will be used to manufacture the older legacy chips most in demand. In addition to being less lucrative, investing to make low-tech chips is riskier because they are in danger of being phased out which would mean less return on the investment.
Only semiconductors are a $450 billion global industry. Semiconductors are microchips that have become increasingly crucial today because they are everywhere in our daily lives and in industry, led mainly by the automotive industry but also consumer electronic devices. To get an idea of their importance: in 2020, more than a trillion chips will be manufactured worldwide, around 130 for every person on Earth.
Here is possible to see how sales of semiconductor by industry have grown over the past decade:
Note: values are in billion $.
Source: International Data Corporation (IDC)
Globally, China, Taiwan, and South Korea manufacturing companies are the biggest players and dominate the business when it comes to these microchips:
Source: TrendForce
For instance, Taiwan Semiconductor Manufacturing Co. (TSMC) plans to spend $100 billion to build new chip plants over the next three years. TSMC and Sony are partnering to build a new plant in Japan to make the older legacy chips most in demand. But it won't be ready for mass production until 2024. Taiwan Semiconductor is also adding a new plant in the U.S. and expanding production in China and at its $12 billion factory in Arizona.
South Korea is expected to unlock $450 billion in private funding by 2030. Also, Samsung Electronics announced it will build a $17 billion chip-making plant in Taylor, Texas, to produce advanced chips, but production is not expected to start until later in 2024. Samsung has already one U.S plant now, in Austin, Texas.
Intel Corporation has plans to complete factories in the U.S. and Europe over the next decade. Indeed, Washington is putting $52 billion on the table in federal funding alone, while China is expected to have invested $150 billion in the sector between 2015 and 2025.
What about production of microchips in Europe?
Europe aims to increase its electronics independence
The microchip shortage highlighted the global dependency on the semiconductor value chain, which lies in the hands of a small number of actors in a complex geopolitical context. It served to demonstrate the necessity of semiconductors in the function of the European industry and society. For this reason, i
n February 2022, the European Commission launched the

European Chips Act

to reinforce EU's security of supply, resilience and competitiveness in semiconductor technologies and applications and to lower its dependence on Taiwan and the other Asian giants.
With the new European Chips Act of 43 billion Euro in public and private money, Europe wants to push its semiconductor production from 10% of today's world market share to 20% by 2030. This is an ambitious but challenging strategic goal, not least in view of the huge investments made by the main rivals, including US.
Of course, this will not lead to self-sufficiency, but the the aim is to safeguard European supplies by strengthening research, facilities and cooperation between countries. All this is to avoid or at least to mitigate future crises and interruptions in the supply chain such as those suffered in recent months. This is also because Europe's dependence on Asia is so strong that if Taiwan were to stop exporting chips, European factories would close in few weeks. And without semiconductors, there is no digital transition, no green transition, and no technological leadership. On top of this, this Act will guarantee that the EU has the tools, skills, and technological capabilities it needs to become a leader in this field beyond research and technology in design, manufacturing and packaging of advanced chips and to protect its supply of semiconductors and to decrease its dependencies.
To achieve this goal, however, current production efforts will have to be quadrupled, as will investments, new factories and new trade rules. But looking at the monstrous figures of the rivals, it is clear that it will not be easy to compete on equal terms. A specially adapted state aid framework will also help the EU, albeit with due caution. Public support will only be possible for the realisation of "mega fabs" or Important Projects of Common European Interest (IPCEI). Exposed to the vulnerabilities left by the pandemic, the EU is nevertheless thinking above all about the international game. Regulations also provides for a mechanism to block exports, which can be activated in the event of a serious crisis in the sector.
How Hemargroup faces shortage challenges
At Hemargroup, our goal is to create an environment of innovation and collaboration with our customers. By establishing this type of working relationship, we make it easy for businesses to make the switch to outsourcing without having to worry about any trouble during the transition, while providing a Swiss level of quality and punctuality. By offering a complete portfolio of Electronic Manufacturing Services (EMS): design, engineer, prototype, test, and manufacturing of electronic parts and final products, Hemargroup is in strict control over the full project design & supply journey.
The quality of our processes is the heart of our strategy and our main goal is to offer the best possible service through the whole product lifecycle. In order to achieve our high standards, we start from the raw materials and components, by periodically visiting our supplier network personally. Our own production site and all processes and procedures are ISO and IPC certified. On top of that, our ISO 13485 and AQAP2110 certifications states our experience and quality for the, respectively, medical and military industries.
Of course, like everyone we are facing the challenges of the shortage era as well, but we minimize the risk of components shortage by reacting very quickly and ahead of time, as we have done by forecasting the pandemic negative consequences on the electronic industry.
Our strategic supply chain team is coordinating with and gathering orders from customers as soon as possible, in order to plan in advance the near and far future components needs. We established strong and strategic relationships with suppliers as well as with many international companies. Our due diligence and suppliers' code of conduct ensure us to have a solid and reliable supply chain. Moreover, our complete Warehouse and Intelligent Stock System can stock, through a State-of-the-Art automatic cabinet system, your components with ideal humidity and temperature conditions. We operate by applying the First-In-First-Out principle, guaranteed by our advanced traceability and material management infrastructure. Last but not least, the strong collaboration between our engineering and production departments guarantees the application of best practices for Design-for-Manufacturing (DfM), Design-for-Excellence (DfX), Design-for-Procurement (DfP) and Design-for-Cost (DfC), where our engineers are able to overcome obstacles, by finding equivalent alternatives or redesigning your product according to current components availability on the market.
Don't hesitate to contact us for more information or for requesting a quotation on our services.